Product Description
HUE MOTORBIKE TOURS OVERVIEW
Hue- the old capital city of Viet Nam is an ideal destination for visitors to discover both natural and cultural beauties. Together with cheap Hue scooter rental, traveling with Hue motorbike tours is the best way explore the city. With the total of approximately 72 km² of acreage, you can visit almost the most famous destinations of Hue city easily. With the experienced guides you can also have chance to know more about Vietnamese culture. Also, you have chance admire the beauty of the real Hue and have fun times with these new friends .

TOUR PROGRAM – HUE MOTORBIKE TOURS
IN THE MORNING
8:30 am. We will pick you up at your hotel in Hue city and then our guide will let you know about the destination and notes for the hue motorbike day tours. Also, they will also teach you some Vietnamese words or basic Vietnamese cultures which may make you excited.
9:00 am. Start Hue motorbike tours by heading to the first destination: Thanh Toan eco village. It takes 15 minutes to get to the village. Then on the way, we will be driving by the countryside roads, along beautiful Nhu Y River. Surely it's exellent for those who are hunting most popular scenes in Vietnamese countryside.
In Thanh Toan eco village, visitors will know more about the history of the bridge building. Ancient Thanh Toan Bridge is one of the most beautiful tile roofed- Bridges in Viet Nam since 1776. There is a local market forward which sells many rural products, foods and necessary tools for the normal local life. The guide of hue vietnam motorbike tour will introduce you every single thing you see or answer any questions about these. Also, nearby the Bride is the agricultural museum which shows many local tools for making rice, for farming and the basic typical cultures of ancient Vietnamese people. It's truly a peaceful place to do apart from the hustle and bustle of urban life.
10:00 am.  Visit Tu Hieu Pagoda.
Tu Hieu Pagoda is the highlight of the Hue adventures motorbike tour. It was named after the historical stories of the piety and also here is the tomb of 24 eunuchs of Nguyen Dynasty. The tomb not only associated with the story of touching piety stories, but also highlighted by the harmonious combination of architecture and poetic nature. This makes visitors feel like being in fairy tales with green pine forests.
IN THE AFTERNOON
1:00 pm. Enjoy lunch with local food
After a long time discovering tomb and pagoda, what could better to continue Hue motorbike day tours by enjoying local Hue foods and drinks to get the energy for the afternoon. In term of tasty foods, Hue will not let you down because of the unique smell and interesting styles. Especially, some of famous local foods in Hue you can try such as: sweet soup, beef noodle( Bun Bo Hue), stuffed rice pancake, grilled chopped meat.
2:30 pm. Get to Thuy Tien water Park – Abandoned park
Located in a pine forest, Thuy Tien Water Park wasopened to welcome visitor when it has not still completely finished building in 2004. Not so long from the day of opening, the Park was closed and abandoned. For years, Thuy Tien Water Park has been an ideal destination to explore the mysterious, ancient beauty. Also, with motorbike tour in Hue  give you an extremely excited feeling in honor movies.
4:00 pm.  Riding Around Thuy Bieu village via hidden road.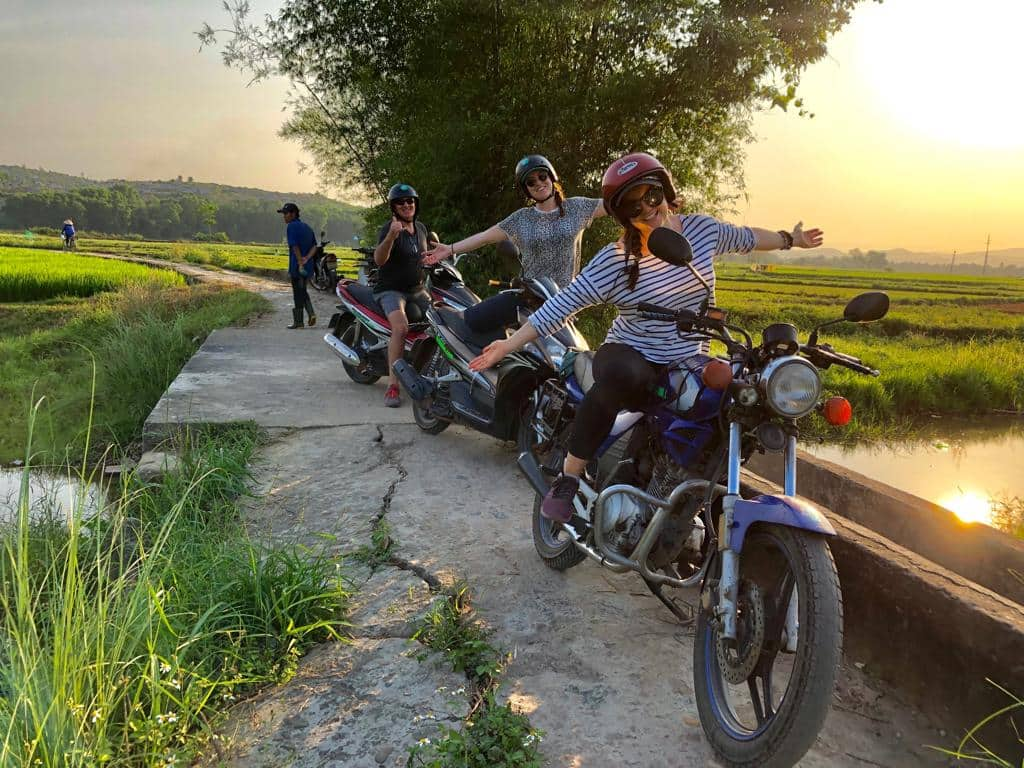 Return Hotel. Finish the Hue advanture day tour trip
What to prepare for Hue motorbike tours?
Sun glasses, sunscreen, trousers
Small bags
Cameras, Go pro

To book the tour, please give us info below via whatsapp or Email:

Date and timeyou want to the tour
Adress you stay that you want us to pick and drop off
Number of people you have
Anyone would like to ride solo?
If yes: How many people ride automatic bike and semiautomatic bikes?

* After getting all info above, we will confirm the total price and everything